About Kilimanjaro Experts
The Kili Experts are a fairly new company – but one with very experienced people working for it.
My name is Henry Stedman, and I have been writing the bestselling guide book to Kilimanjaro since 2001; David Squire worked as a tour organiser on the mountain for over a decade. While Joshua Ruhimbi, the third director, has been climbing for a similar period and has summited over 250 times, a career that has included leading blind climbers to the summit, no less than three(!) wheelchair expeditions to the top, and also led the first expedition to the top where the couple got married at the summit.
We put this team together because although I liked aspects of many companies, we couldn't find one company that was ideal. For instance, we may have thought that the guides at one company were amongst the best – but, unfortunately, their treatment of their porters and the wages they paid them weren't brilliant.
So we have handpicked various guides, cooks etc, many of whom I have climbed with before and have chosen simply because we know how good they are. And by joining us all together in a company that adheres to a strict ethical code, while not overcharging as so many companies do, we believe we've created a company that 'ticks every box' and fulfils every expectation that I, as a climber, would want from my trek operator.
Henry
Henry Stedman is the author of the bestselling guide book to the mountain, Kilimanjaro: The Trekking Guide to Africa's Highest Mountain. Now in its fifth edition, it has sold well over 100,000 copies since its first publication in 2001. He also created and maintains the Climb Mount Kilimanjaro website, which has been viewed and used countless millions of times by countless millions of people since its inception in 2006. He also runs the Waypoint51 website, about the great walks of Britain – ideal training for those wanting to climb Kili. 
Henry has scaled the mountain more than 30 times, and has also summitted Mount Meru on half a dozen occasions too. Nevertheless, friends still describe him as living proof that virtually anyone can climb Kilimanjaro.
Joshua 
Joshua Ruhimbi has been leading climbs on Kilimanjaro for over a decade now, and has reached the summit well over 200 times. Chosen for his experience, professionalism and the fact he's a lovely bloke, Joshua started off his Kilimanjaro career as a porter in 1999 and has risen through the ranks to become the chief guide at Kilimanjaro Experts. His achievements on the mountain include heading up the expedition that culminated in the first wedding on top of Kilimanjaro, as well as leading a blind man  to the top – and no less than three successful wheelchair expeditions! 
A son of a school teacher and a member of the Haya tribe, which has its base near Lake Victoria, close to the border with Uganda, Joshua today lives just outside Arusha and is the father of four children.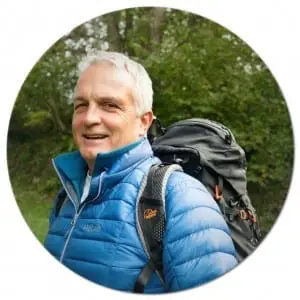 David
David Squire has worked on Kilimanjaro for over a decade and has climbed every route on the mountain. This included one climb in 2012 when he was accompanied by his entire family, including wife, daughter (19 years old at the time) and two sons (15). Needless to say, they all summitted successfully. 
His experience stretches beyond Kili, however, having trekked widely in Africa including climbs on Mounts Meru, Kenya and Stanley, as well as other destinations around the globe.
Prior to working on the mountain, David served in the British army for almost a decade.  These days, however, much of his spare time is spent helping other people to experience the great outdoors, for in addition to being our main trek coordinator, he is also a qualified Walking Group and Mountain Leader, as well as an Expedition Assessor for the Duke of Edinburgh Award scheme.
Kassim

Kassim Mickidad Shaban was born and grew up by Lake Victoria and spent most of his childhood fishing and playing by the lake – experiences that he says prepared him for his adventurous life.A thoroughly professional mountain guide with buckets of enthusiasm and experience, Kassim trained at the College of African Wildlife management , having been attracted to the mountain as a teenager. A porter for over seven years, during which time he reached the summit over 70 times. From there, Kassim followed the well-trodden path from porter to guide, via stints as a summit porter and assistant guide. Kassim is a tour guide familiar with the countries lifestyle and attractions.
One of our Wilderness First Responder guides, Kassim has excellent personal communication skills and a great sense of humour, as well as a great command of English. A genuine bush lover with and nature fanatic, when he's not helping people to achieve their ambition on Kili, he spends most of his free time reading books and watching football.

Ibrahim
Ibrahim Mashaka started his mountain career back in 2009 as a porter, but was soon climbing the ladder and became a guide just a year later. Described by colleagues as knowledgeable, meticulous and conscientious, and by trekkers as "just brilliant', we decided that we simply must have Ibrahim on the team when we noticed on first trekking with him that he voluntarily went out of his way to pick up other people's litter!
Ibrahim is a father to two young daughters and has well over a hundred climbs behind him now.
Janeth
At 22, Janeth John Johnathany is one of our youngest guides, though she's been working on the mountain since 2015. One of only about a dozen female guides currently working on Kilimanjaro, Janeth found the mountain a natural home for her adventurous spirit – and as she herself admits, she loves her job! Janeth currently heads up our team of female guides and porters – the first women's team on the mountain.
Our porters
We have hundreds of porters on our team. Male female, old, young – our mountain crews cover the entire spectrum of the Tanzanian population. All we ask is that they are honest, willing to work hard and capable of carrying 20kg (plus 5kg of their own personal gear) up the side of a very big mountain… and down again.
All of them must also be equipped with boots, waterproofs and a head torch. In return, we promise to feed them well, provide good shelter for them when they're on Kilimanjaro, and look after them when they are on the mountain.
We also provide them, in line with KPAP's regulations, with one of the highest wages on the mountain, as well as a decent tip provided by our climbers and shared fairly and openly amongst everyone.
We are very proud of our porters, and our climbers often finish their trek in awe of them. Their superhuman efforts in taking the bags and equipment up Kilimanjaro often beggars belief. But they're not indestructible, and their welfare is our top priority.  That way, we are able to keep our porters smiling, which in turn makes for a very happy camp on the mountain.